Escaping the scorching heat of summer and enjoying a refreshing dip in your very own pool may be one of your favorite seasonal activities. For the rest of the year, your backyard swimming pool serves as a party place for hosting your friends and family. That's why having a well-maintained and best-looking swimming pool is so important for your outdoor living space. Pool remodeling is the perfect way to avoid future headaches related to repairs and reconstruction. By giving your pool a simple face lift, you can breathe a new life into it. It can improve the appearance as well as increase the value of your home. So here are some of the ultimate reasons why you should consider pool remodeling:
• Add exciting new features: You will be amazed to see the latest pool features available in the market. From waterfalls, water slides to pool lighting, these built-in features are a great way to increase the visual effect of your swimming pool. Other features such as pool deck and spa can help you add luxury to your existing pool.
• Save energy, enjoy more: Pool remodeling doesn't have to put a dent in your wallet but it is meant for helping you save thousands of dollars in the long run. By upgrading pool technology, you can make your backyard water-scape more energy efficient. You can replace existing automation features with new, innovative energy-efficient water heaters, pumps, filtration systems, and cleaning systems.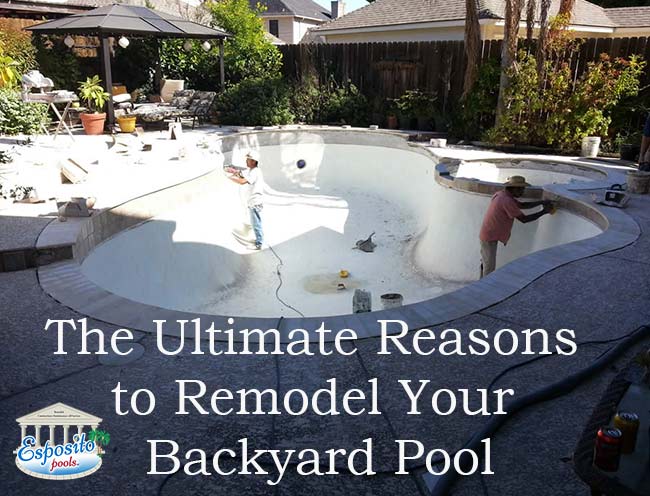 • Make your pool uniquely yours: An excellent way to infuse your personality into your pool is to go for pool finish replacement. There are wide choices available in pool finishes, but selecting the right one will make all the difference in the uniqueness and aesthetic appeal you want in your remodeled pool.
• Safety comes first: Pool safety starts with the water depth. It might be possible that the depth of your pool was acceptable to the previous owner of your home but it is more-than-desirable for your family. The pool depth can be changed through remodeling. You can also install pool cover or fences to keep your pets and children away from the pool area.
No matter for what reason you're going to undertake a pool remodeling project, Esposito Pools of Houston, TX can help you get the result you want through our expertise, quality craftsmanship and ultimate pool remodeling services. We will help you make an impressive difference in your existing pool and convert it into the paradise of your dreams.