A swimming pool at the backyard of your home is an enjoyable extravagance but it requires your commitment for timely cleaning, maintenance and servicing. You might think that taking care of your own pool is an economical approach but you'll realize it later that DIY pool maintenance is actually an exhausting task. You cannot maintain the hygiene and cleanliness of your pool as professionals can do it for you. Hiring pool service professionals will ensure that you have the pool cleaned properly and in a brief amount of time. Read on to find out the benefits of using professional pool maintenance services and you'll understand why pool cleaning by experts is a good idea.
• Save time and energy
That's the biggest benefit of hiring professionals for the labor intensive cleaning task, especially when you lead a busy life. By delegating the pool cleaning service to the professionals, you can save time and energy involved in the process. When you'll get your pool cleaned on a weekly or bi-weekly basis, you could immediately detect some serious problems with your pool. This will help you save costly repairs in the long run.
• Proper cleaning in a short time
Pool cleaning companies have the right kind of equipment and tools to perform the cleaning task in a better way and in the shortest possible time. From removing debris to cleaning pool equipment, professionals use latest technology, processes and tools to inspect, clean and repair filter and pump, valves, heater & motor and plumbing system. They carry out water testing and water treatment processes using water testing kit to ensure that pool water is safe for human use.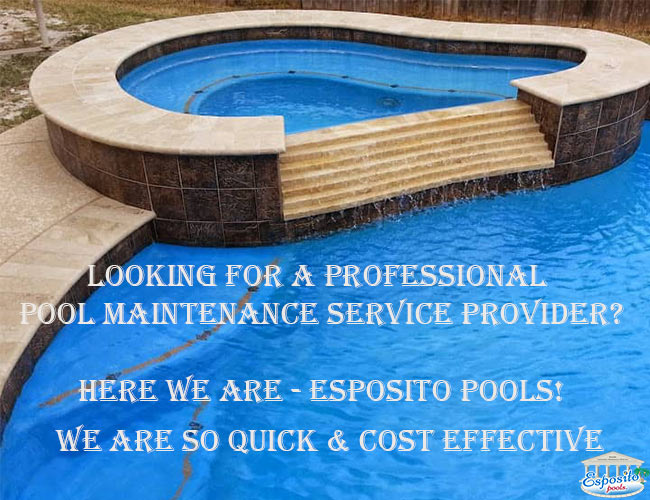 • Experts hands for more difficult tasks
Pool cleaning is not just about removing debris or leaves, it involves more difficult tasks. Pool cleaning companies have experts to handle works such as vacuuming, cleaning pump basket and filters and checking pool for broken tiles or leaks. Expert professionals would also provide you suggestions to reduce costs and increase the longevity & overall performance of your pool.
Having your own swimming pool is the best way to relax, refresh and rejuvenate after a tiring day. Hiring professional service for pool maintenance is not only a time-saving option but it is cost effective too. Esposito Pools has been providing expert pool remodeling and pool replastering services and reliable pool cleaning services in Houston, TX for over 20 years. We have the expertise and knowledge to keep your pool clean, safe and functional so that you can take that extra time to enjoy swimming in your pool rather than having to clean it.