It's December which means that Christmas is round the corner and 3 weeks of holiday parties to attend. Sounds quirky, but a Christmas themed pool party may be the coolest thing you can host this holiday season. In fact, with an indoor pool, this party could be enjoyed at anytime of the day. Besides, it's always fun to have a reason to pull your Christmas decorations out of storage and decorate! Don't worry about the cleanliness of the pool, post party.

Give your pool a festive look, make it the focal point of your party and then leave the cleaning task on your pool cleaning company in Cypress who will clean it for you in the best possible manner.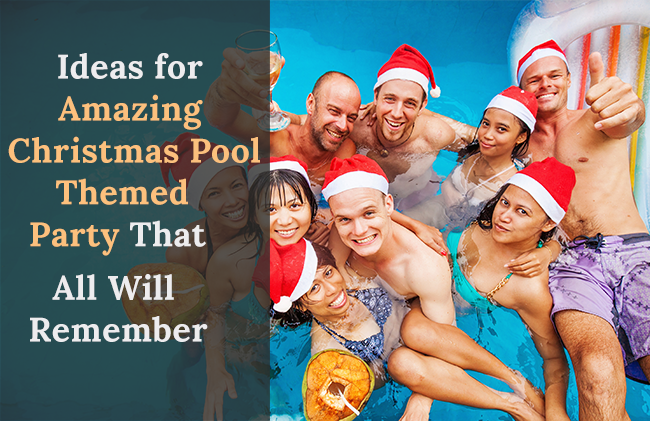 Turn your Deck Area into a Winter Wonderland
Do not forget to create a festive atmosphere around the pool by decking the pool area with seasonal decorations.
You can hang Christmas lights on the backyard's fence or turn-on the red and green hot tub's lighting. You can also decorate the surrounding plants with stars, snowflakes and Christmas baubles. Cover the deck area with artificial snow and mark the path to the hot tub with festive pathway markers – cardboard candy cane, gingerbread houses or even cardinal wreaths work great.
Take it up a notch by adding an inflatable snowman or Santa to your decor. You could even tie a bright red ribbon around your hot tub to make it look like the world's best Christmas present!
Play Your Favorite Christmas Music
All of us wait for Christmas all the year long, just to break out the favorite Christmas jams. Playing your favorite Christmas music will really set the mood. You can also create a themed playlist by just looking up on your laptop and music system for your favorite songs suitable for Christmas pool party.
Make it a Fancy Dress Party
If you're feeling particularly adventurous, it's a time to bring about a change by turning the usual Christmas hot tub party into the event of the year by making it a costume party.
So make sure that your relatives and friends deck themselves like elves, reindeer or even Santa, and in the last, wins the best dressed title. You could also hand out Santa hats, elf hats or reindeer headbands at the door.
Christmas Themed Entertainment will Add More Charm
It is always said a party can only be good if the entertainment is good. You can make your party a memorable fiesta with Christmas-themed fun and games. Get your guests into the Christmas spirit ahead of time by organizing a secret santa, and make gift-giving the highlight of your party.
Check Out The Steps To Clean Your Pool Post Party
1. Remove all the tins, cans, and tissue papers spread in and around the pool. All the things floating on the pool can be removed by using a vacuum head or skimmer nets. Do not leave the pool unattended due to hectic schedules in the festive season, instead, seek a help from the team of professional experts.
2. It is highly recommended to remove all the clothes lying in and around the pool because the chlorine might cause the clothes to discolor. So it is best to book an appointment with pool cleaning company well in advance so that they come immediately and at the scheduled time, just after your party gets over.
3. The team of professional experts will clean the pool deck area with a mop, or spray the dirt away with a pool surface pressure washer.
However, before you send out those party invites and make all suitable arrangements to make this year's Christmas a memorable one for your friends and relatives, make sure your swimming pool is in perfect condition, both before and after the party. Book an appointment with Esposito Pools, a reliable company for pool cleaning in Cypress, for the cleaning of your pool post Christmas bash. All you have to do is simply enjoy a worry free Christmas party!