When a homeowner decides to build the pool that has been a longtime dream, the first thing that comes to their mind is to create a pool that mirrors their personal style. If you would like your swimming pool to reflect your unique style, you can come out of the humdrum box by incorporating major stylistic changes in your Houston pool. The following are some new pool construction ideas to consider if you are willing to venture a one-of-a-kind pool and declare your pool's uniqueness as an extension of your own individuality.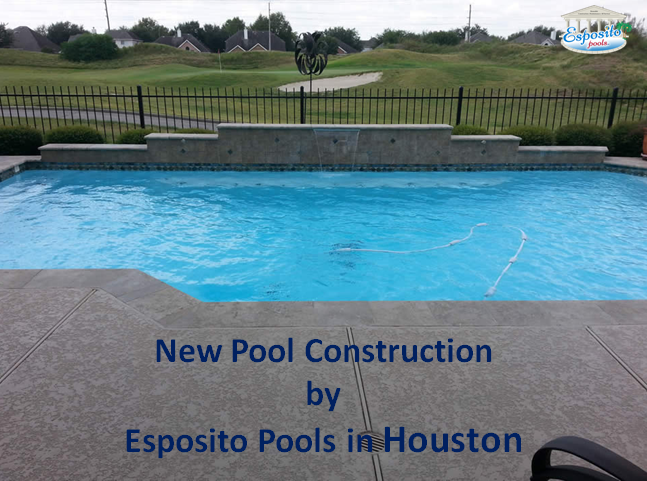 • What about custom pool shape?
Do you want your pool design to take the shape of your most treasured possession? What about a guitar-shaped pool or crescent shaped one? Virtually any pool shape is possible. Whendeciding the shape of your pool, your imagination is the only limit, the rest up to your pool construction company!
• Poolscape– Blend the Pool with Landscape
Get your pool designed and installed in a natural-setting in such a way that it seamlessly blends with the landscape. You can give a "shoreline" touch to your poolscape design by incorporating beds of gravel, water plants, and scatters of mixed stones to make the whole scene blend completely with your greeny& rocky backyard landscape. Never add features to your pool that are a stark contrast to the yard's landscape.
• Fire pits, waterfalls,pool bridgesand custom outdoor area
Fire pits built around your swimming pool will not only add special ambiance but will also form great reflective visuals. Sitting on your pool chair near the water environment while watching the reflection of beautiful hues of flames on the water will evoke feelings of warmth and coziness that are hard to beat! Waterfalls have their own charm. By adding a little spark to your setting with a beautiful rock waterfall, you can't go wrong. A customized outdoor living area/wood trellis/wooden footbridge/gazebo will provide a cozy respite for those seeking solitude and some private relaxation time.
• The element of moving water – Laminar fountains and fountain bubblers
Fountain bubblers and laminar fountains can be used on almost any style of pool and are quite affordable. Fountain bubblers must be installed during new construction or major remodeling since they are built in the pool floor. They create jet of bubble waters for kids to play inside the shallow side of the pool. Laminar fountains create bubble-free arc of water, and often lit by stunning LEDs.

These amazing new pool construction ideas will result in a true work of art if every feature is thoughtfully planned and designed before construction and installation. Talk to an experienced new pool construction and pool remodeling company in Houston or in your area and spend a lot of time designing your plan with the consultant. After all, your pool is a lifetime investment.