When you decide it is time for a face lift for your swimming pool, you must ensure that you and your expert pool professional make a good use of your money to remodel your pool. The cost of a pool remodeling is more than likely, more than you're willing to pay, unless money is not a concern. Thankfully, it is doable to make dramatic transformation to your swimming pool with small changes, without spending a fortune. Small changes will help you reap big benefits – saving money and upgrading the look of your pool.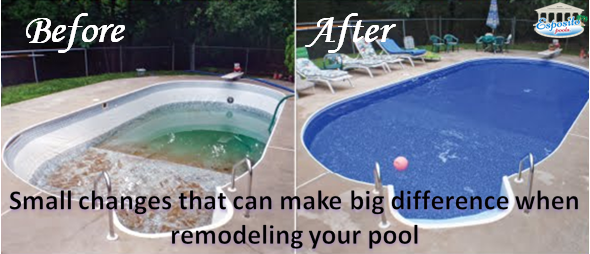 Fire Pit
Fire pit feature has become a standard backyard pool installation. They bring a special aura to your outdoor space and make your pool side a perfect place for relaxation. Stylishly designed, fireplaces for pool side spaces come in different designs and offer many options. You can either get a fire with traditional wood burning feature or setup for natural gas or propane. The fire pit can be made of metal, concrete, natural stone, and the biggest advantage is that you can select decorative elements depending on how much you are willing to spend on it.
Underwater color changing LED Lighting
Get color-changing pool LED lights installed inside your pool, which will help you increase energy efficiency, lifetime value, quality of light, and controllability. You can easily get brightest yet energy efficient LED lights with superior lens, intensity & color effects and they can be retrofitted to virtually any type of swimming pool. A well-lit pool with interesting lighting patterns is a must-have extra for your pool that makes it even more appealing.
Pool Lighting
By adding light to your outdoor space surrounding the pool you can increase the time you and your family enjoy using it. Pool lighting, especially the deck, path leading to the pool and lighting of other special features surrounding the pool, will allow you to extend the use of your outdoor living space beyond sunset. Pool lighting is also a great way to create ambiance, set the mood for your pool party. Of course, you must use LED lights to save as much energy you can, after all, remodeling is being done to save money in the future!
Water Slides
Adding water slides to your swimming pool won't cost you much. By integrating waterslide to pool, you get the feel of a water park in your backyard! With endless fun for children and adults too, a water slide is an ultimate addition to any pool. From a straight drop to gently curved slides, you will variety of options in modern swimming pool slides.
You can make significant transformation to your pool with these small changes. Besides major renovations such as pool plastering, tiling and resurfacing, get these modifications done by your pool remodeling Houston company and change the appearance of your pool within limited budget.