Do you have an old pool? It could be the time to replaster your pool. Although the expected lifespan of plaster applied to pool ranges from 10 to 15 years, good pool chemistry and maintenance may earn your pool plaster a few years beyond that. There are many variables that affect the longevity of your pool's plaster. Some of these factors include how the plaster was applied and water's chemical balance. How do you know that your pool needs replastering service now? Check out for these signs to know when you should call your Houston pool replastering professional.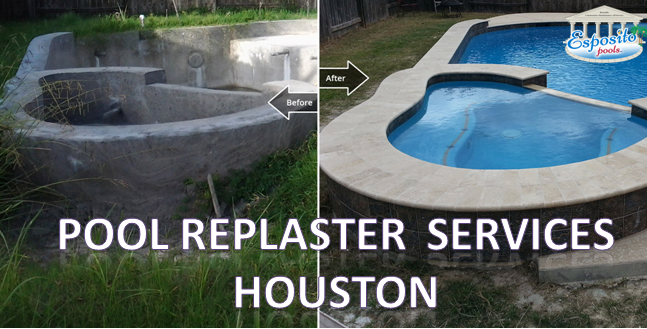 Typical Signs that you Need to ReplasterYour Pool
• Mineral Stains
Pool stains don't just happen, they are caused by poor water conditions and debris. Debris stains caused by leaves or dead bugsthat cannot be removed by simple brushing or bleaching. Similarly, minerals such as copper, iron or manganese present in fill water or coming from copper pool pipes can cause pool stains that are hard to remove by acid washing or chemical stain removers.
• Gunite/shotcrete/rebar is showing through
If you have bare spots inside the pool where the gunite/shotcrete/rebar beneath is showingthrough, this is of concern. Gunite/shotcrete forms the structural support of the pool, but they are porous and water will seep through them. The plaster acts as a waterproofing material above them. If your pool is showing patches at different areas where shotcrete/gunite beneath is clearly visible, it's time to replaster.
• Rough Surfaces
The best indication that you may need pool replastering is identifying if the sides and bottom of the pool have become rough or not. Rough pool surfaces can cause tearing at your skin or clothes, and also provides algae a nice place to attach their roots. Localized rough surface can be sanded with rotary sanders but widespread rough surface can only be done away with replastering.
• Pool owners decide for a pool facelift
Some pool owners want to change the color or surface material of their pool, and that's another reason for pool replastering. Generally, white plaster is applied over a shotcrete pool shell, but you can also opt for colored ones. Colored plaster is white plaster with dye added to the mix. If you're bored with your plain white plastering, go for replastering using colored plaster option.
Knowing when to replaster your pool is essential if you want to avoid additional repairs and unwanted plastering costs. Watch out for these typical signs to determine if it's time to replaster your pool. Once you have determined that your pool need repairing service now, you only need to do one thing – calling your professional pool replaster Houston company. Leave the plastering job to pros and enjoy your pool again once pool replastering work is done.