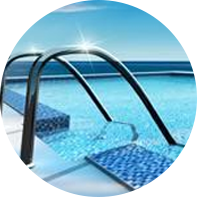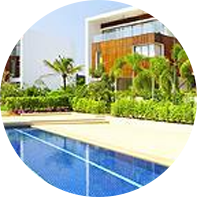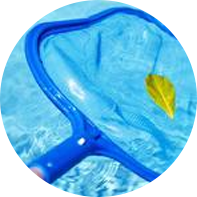 Esposito Pools Inc
We have been taking care of customers under our family name for over 20 years, since 1995. We offer just about everything for your pool needs whether you're looking for the best advice anywhere or needing quality work done. From new pool construction to smaller remodels and renovations of plaster, tile and coping, to weekly cleaning services and all repairs. We install and repair all types of equipment such as pumps, filters, heaters, cleaners, and even slides. You can trust that we are fully insured, trained and licensed and our advice is second to none because we care about you. Read more about:
We offer just about everything for your pool needs. New pool construction and renovation, service and repairs, and installation of all types of equipment such as pumps, filters, heaters, cleaners, and slides.
We specialize in swimming pool remodels, repairs, leak detection, construction consultation and weekly cleanings in Greater Houston, Cypress, Katy, and all surrounding areas.
Pool News
Cleaning Tips: How to Clean Pool Deck Area
A decorative, colored pool deck is an inviting area surrounding the pool that not only provides a functional space for sunbathing but also a perfect place for pool party and barbecuing. Over time, pool decks, whether you own a pool in Cypress or in other city, tend to look dirty due to mildew and mold growth. The black mildew grows more in areas where there is high humidity, i.e. near the pool. That's why experts recommend that homeowners should get their pool decks deep cleaned and disinfected at least twice a year to prevent slipperiness & spread of any disease and must perform monthly cleaning to maintain the original look of their pool deck. So, here the tips to clean your pool deck area: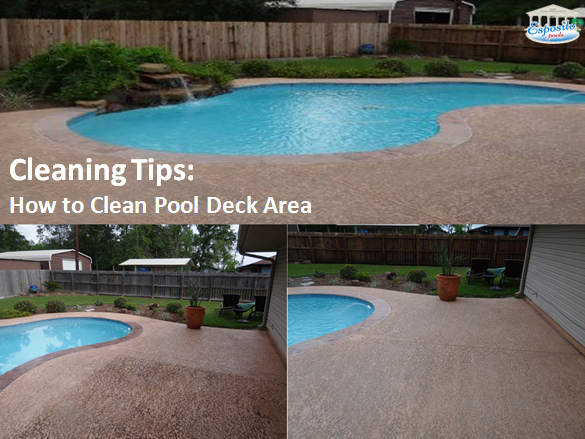 #Tip 1: Preparing the Pool Deck Area: Remove all of the items such as furniture, plants and water toys around the deck before starting your cleaning process.
#Tip 2: Preparing Cleaning Material: The first step in cleaning pool deck is to produce your own effective deck cleaner. Take a large bucket and fill it with warm water and add a small amount of mild bleach or mild degreasing soap. You can also get algae killer and surface cleaner in the market for cleaning decks. After mixing the water and bleach mixture properly, apply it over the deck area using a fiber-based mop.
#Tip 3: Scrubbing & Rinsing: When you have applied the cleaning solution all over the pool deck, it's now time to scrub it thoroughly using scrub broom. This process will help you to remove dirt, mildew or grime from the deck area. For removing stubborn stains use more degreasing soap with scrub brush. After scrubbing you need to rinse off the chemicals and dirt by using pressure washer. This process ensures your deck is completely filth-free.
#Tip 4: Sealing the to Prevent Future Stains: After cleaning the deck, let it dry for sometime, then apply a saturating coat of a sealer to seal the pores and harden the deck material by using a garden sprayer. The sealer will not only provide stain resistance layer for your deck but will also prevent mildew growth by keeping mold spores & water out of the deck pores.
Pool decks are made of different types of materials including concrete, modified cement, ceramic tile, stone, and epoxy aggregate to name a few. Depending on which type of material has been used for your deck area, you should follow the manufactures recommendation for cleaning it. For deep cleaning and disinfection you must call your reliable pool cleaning Cypress company to keep your pool & surrounding area look new forever.
read more »
Pool Leak Detection and Repair: Things To Do
Pools do not lose ¼ inches of water a day due to evaporation, no matter what the weather and climatic condition in your location is. So, if your pool is losing more than 2 inches of water in a week, this means the swimming pool is leaking. Pools must be airtight; leakage problem can deteriorate the condition of your pool quickly. Pool leak can occur through plumbing parts, fittings, or through the shells. When you detect pool leak, you must review the following things: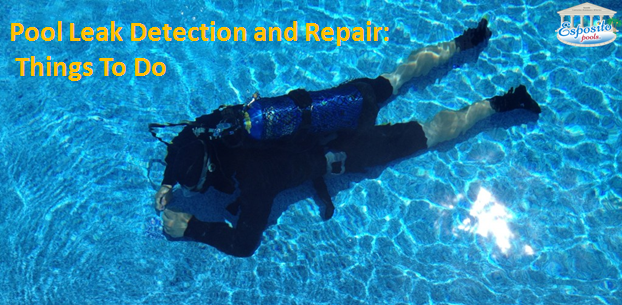 How to detect whether the pool is leaking?
If you want to confirm a leak, you can use these two methods to detect leakage:
1. Tape Marking Method: Mark the pool water at the skimmer using tape. Check the mark after 24 hours and see whether the level has gone down or not.
2. Bucket Method: Place a bucket filled with pool water on your pool step. Mark the level of water on both the outside and the inside of the bucket using a permanent marker pen. Check the mark 24 hours later and see if there is any difference in the level of water based on the markings.
Where exactly is the pool leaking?
• Look closely the fittings, equipment and piping areas to check if pool is leaking at the plumbing system. Leakage occurs at plumbing systems because of different reasons such as low quality pipe material, installation quality, configurations and more.
• Check the surroundings of the pool and the ground for moisture. Pool leaking also occurs due to cracked pool plaster, poor condition of liners, and worn out equalizer line.
• Check the pool liner, skimmers, pool steps, and the corners to determine the exact leakage location.
When pool leak cannot be determined by above methods?
Pool leak detection is a highly specialized work, and sometimes need professional help to detect leak & repair it. They use compressed air method wherein compressed air is used to build up pressure in the pool pipes to detect the problem area. Sometimes, they also use hi-tech machines such as geophones to listen for the leak and dig wherever necessary! A secondary leak detection of underground pipe lines is also required if plumbing system is working fine.
Pool Leak Repair with Pool Professionals
• Once the leak is detected, pool professionals will provide you with quote for structural repairs, plumbing repairs, or other services required.
• Upon receiving approval of the repair cost, your pool company will perform the pool leak repair within few business days.
If you detect leakage in your pool, call only local licensed pool repair Houston Company in order to get the best services at best rates. Pool repair leaks are not only required to eliminate water loss but also prevent damage to undermining pool structural components.
read more »
Call Greater Houston 281-931-5443 or Metro Houston 281-213-9991
Our expert staff is standing by to answer your questions