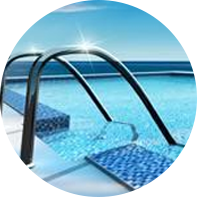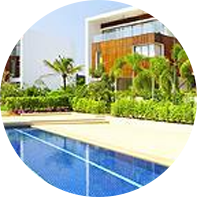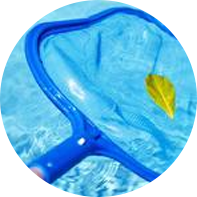 Esposito Pools Inc
We have been taking care of customers under our family name for over 20 years, since 1995. We offer just about everything for your pool needs whether you're looking for the best advice anywhere or needing quality work done. From new pool construction to smaller remodels and renovations of plaster, tile and coping, to weekly cleaning services and all repairs. We install and repair all types of equipment such as pumps, filters, heaters, cleaners, and even slides. You can trust that we are fully insured, trained and licensed and our advice is second to none because we care about you. Read more about:
We offer just about everything for your pool needs. New pool construction and renovation, service and repairs, and installation of all types of equipment such as pumps, filters, heaters, cleaners, and slides.
We specialize in swimming pool remodels, repairs, leak detection, construction consultation and weekly cleanings in Greater Houston, Cypress, Katy, and all surrounding areas.
Pool News
Pool Cleaning Tips: How to Permanently Remove Black Algae
If you see black spots growing in your pool, understand that it is a sign of the beginning of black algae (which are really blue-green algae that look black). Black algae are perhaps the hardest algae to get rid of because it has very deep roots that can grow into the side of plaster pools. They have outer protective layers that protect them from normal chlorine levels and sanitization process. They usually grow quickly in warm water on a sunny day. Regular pool cleaning often restricts the growth of algae species. Though black algae aren't harmful, their presence can be a sign that other bacteria are present. Besides that black algae growth makes your pool look dirty. So, it's important you must get rid of black algae with these treatment methods: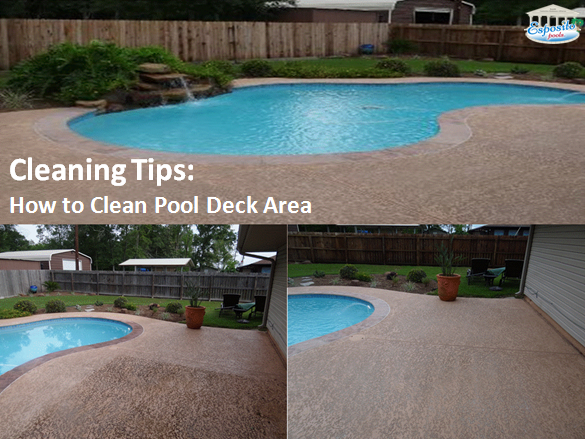 Method #1: Drain the pool and acid wash the plaster. After that pressure wash the pool, and pump out the water. Then bleach wash the pool, rinse again, and refill the pool with fresh water. Replace the filter media and any semi-porous items to avoid contaminating your cleaned pool with black algae traces.
Method #2: The key to getting rid of black algae is to brush the area hard, brush thorough to "break open" its protective slime layer in order to allow chemicals to penetrate the organism. Triple shock your pool by adding 3 pounds for every 10,000 gallons of water your pool holds. Make sure you add the shock at night and run your filter 24 hours a day until the black algae has been taken care of.
Method #3: Balance the pool chemistry to a low pH/high alkalinity condition, then brush the black algae with a steel bristled brush vigorously. After brushing the black spots, Triple Shock the pool as mentioned in the method 2.
Method #4: If your budget allows and your pool is full of black spots, you can go for replastering option. This is the most effective method to permanently get rid of black algae. Make sure you ask your pool cleaning to properly clean the pool tiles to remove the black algae spores completely. After getting your pool plastered, it's your responsibility to properly sanitize pool floats, swim suits, brushes, nets, and cleaning equipment.
Black algae are more typically found in concrete or plaster finished pools because of their rough surfaces. Their protective slime layer makes it impervious to normal chlorine levels. They don't have any effect on water clarity, but it makes your pool appear to look ugly. So, if your pool has started to get black spots, call your expert pool cleaning Cypress company today and get rid of them permanently.
read more »
Small changes that can make big difference when remodeling your pool
When you decide it is time for a face lift for your swimming pool, you must ensure that you and your expert pool professional make a good use of your money to remodel your pool. The cost of a pool remodeling is more than likely, more than you're willing to pay, unless money is not a concern. Thankfully, it is doable to make dramatic transformation to your swimming pool with small changes, without spending a fortune. Small changes will help you reap big benefits – saving money and upgrading the look of your pool.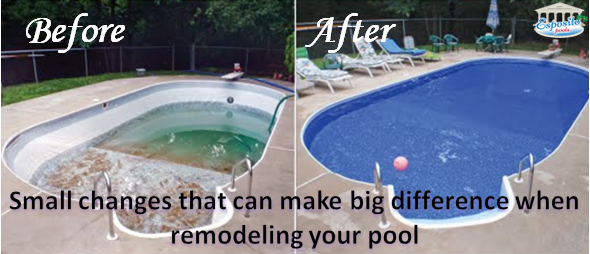 Fire Pit
Fire pit feature has become a standard backyard pool installation. They bring a special aura to your outdoor space and make your pool side a perfect place for relaxation. Stylishly designed, fireplaces for pool side spaces come in different designs and offer many options. You can either get a fire with traditional wood burning feature or setup for natural gas or propane. The fire pit can be made of metal, concrete, natural stone, and the biggest advantage is that you can select decorative elements depending on how much you are willing to spend on it.
Underwater color changing LED Lighting
Get color-changing pool LED lights installed inside your pool, which will help you increase energy efficiency, lifetime value, quality of light, and controllability. You can easily get brightest yet energy efficient LED lights with superior lens, intensity & color effects and they can be retrofitted to virtually any type of swimming pool. A well-lit pool with interesting lighting patterns is a must-have extra for your pool that makes it even more appealing.
Pool Lighting
By adding light to your outdoor space surrounding the pool you can increase the time you and your family enjoy using it. Pool lighting, especially the deck, path leading to the pool and lighting of other special features surrounding the pool, will allow you to extend the use of your outdoor living space beyond sunset. Pool lighting is also a great way to create ambiance, set the mood for your pool party. Of course, you must use LED lights to save as much energy you can, after all, remodeling is being done to save money in the future!
Water Slides
Adding water slides to your swimming pool won't cost you much. By integrating waterslide to pool, you get the feel of a water park in your backyard! With endless fun for children and adults too, a water slide is an ultimate addition to any pool. From a straight drop to gently curved slides, you will variety of options in modern swimming pool slides.
You can make significant transformation to your pool with these small changes. Besides major renovations such as pool plastering, tiling and resurfacing, get these modifications done by your pool remodeling Houston company and change the appearance of your pool within limited budget.
read more »
Call Greater Houston 281-931-5443 or Metro Houston 281-213-9991
Our expert staff is standing by to answer your questions